Thank you to everyone who joined us at this year's Wild & Scenic Film Festival and made it a howling successful event on the 15th Anniversary of the first release of Mexican wolves back into the wild of Arizona. We hope you can join us again next March for our 5th Annual Wild & Scenic Film Festival in 2014!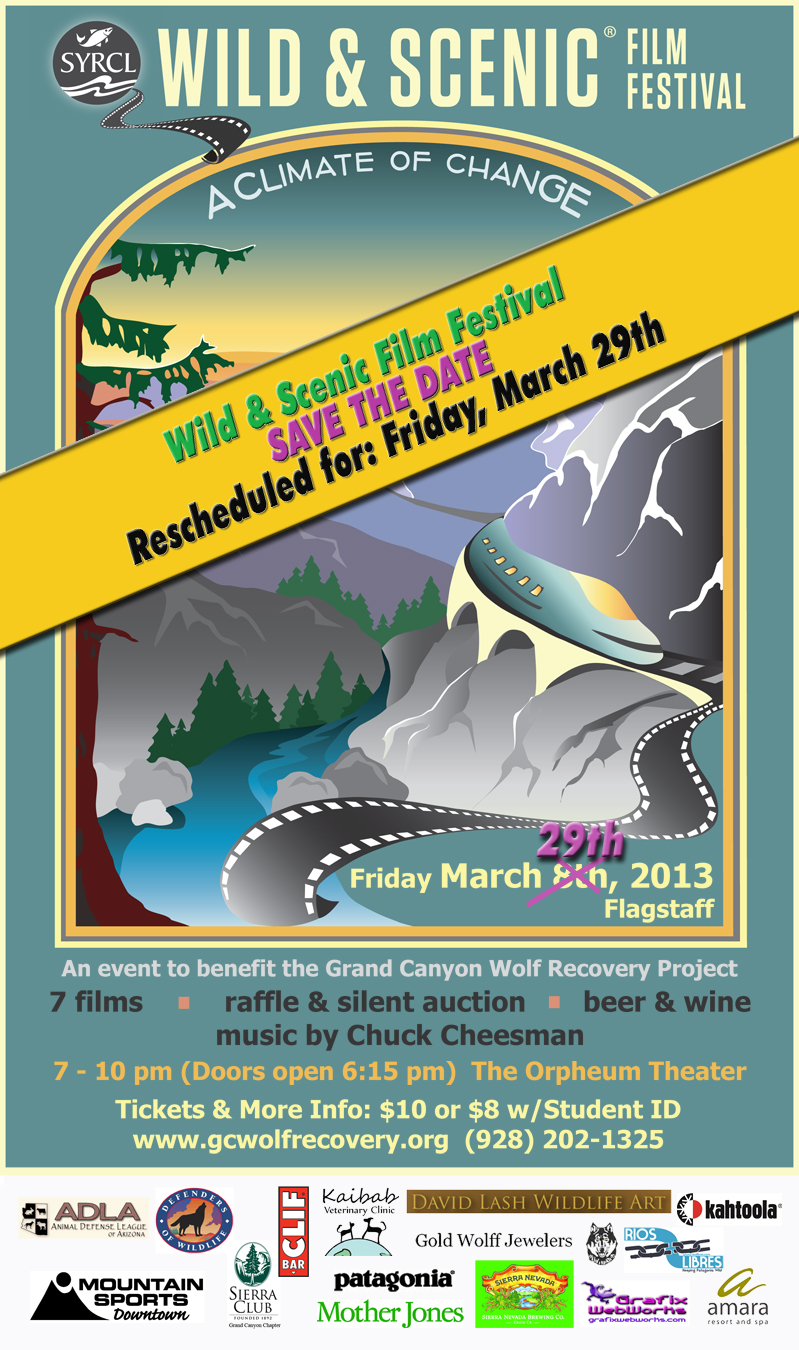 All Ages Show!
The Grand Canyon Wolf Recovery Project is excited to host the Wild & Scenic Film Festival on Tour for the fourth year in a row in Flagstaff, AZ on March 8th, 2013! The festival tour brings together the best of the films in an evening program that leaves people feeling inspired and motivated to go out and make a difference in their community and around the world. The theme for the 2013 festival is "A Climate of Change". Along with our usual line-up of beautiful, engaging, and eye-opening films, we will have a particular focus this year on climate change, as well as highlighting the change makers who are creating a more livable future. An opening reception with information tables by local conservation groups, drinks, food, and local music by Chuck Cheesman will connect festival attendees with local environmental issues and ways to get involved.

A raffle and silent auction will benefit the work of the Grand Canyon Wolf Recovery Project and their efforts to bring back wolves and restore ecological health in the Grand Canyon region.
Event Details:

Date and Time: Friday, March 29th, 2013.
Doors open at 6:15 PM with an opening reception, music, and silent auction. Film program starts at 7:00 PM.
Location: The Orpheum Theater, 15 W. Aspen Ave., Flagstaff, AZ 86001
Ticket Price: $10.00/$8.00 Students (admission price includes one free raffle ticket). All Ages Show! Tickets are available in advance online through our cart and at the door on the night of event, or at Mountain Sports, Animas Trading Co., Bookmans Entertainment Exchange, Rainbow's End, or Stage Left Deli in downtown Flagstaff.
Flagstaff area students can submit a Poem, Song, Rap, or Cheer about Mexican wolves to win a free ticket to the Wild & Scenic Film Festival. See the Submission Guidelines. Due by Friday, March 1st, 2013. Select poets and artists will be invited to read or perform their piece out loud at the Wild & Scenic Film Festival!
For more information: Contact, Emily Nelson, This email address is being protected from spambots. You need JavaScript enabled to view it., (928) 202-1325. www.gcwolfrecovery.org or www.wildandscenicfilmfestival.org
FILMS

Song of the Spindle (4 min)

Public Lands, Private Profits: A Grand Threat (6 min)
How the Kids Saved the Parks (13 min)
Wild Things (39 min)
INTERMISSION
Stories of TRUST: Calling for Climate Change: TRUST Arizona (7 min)
The Story of Change (6 min)
Streams of Consequence (25 min)
BEER
& WINE
MUSIC
by:
Chuck Cheesman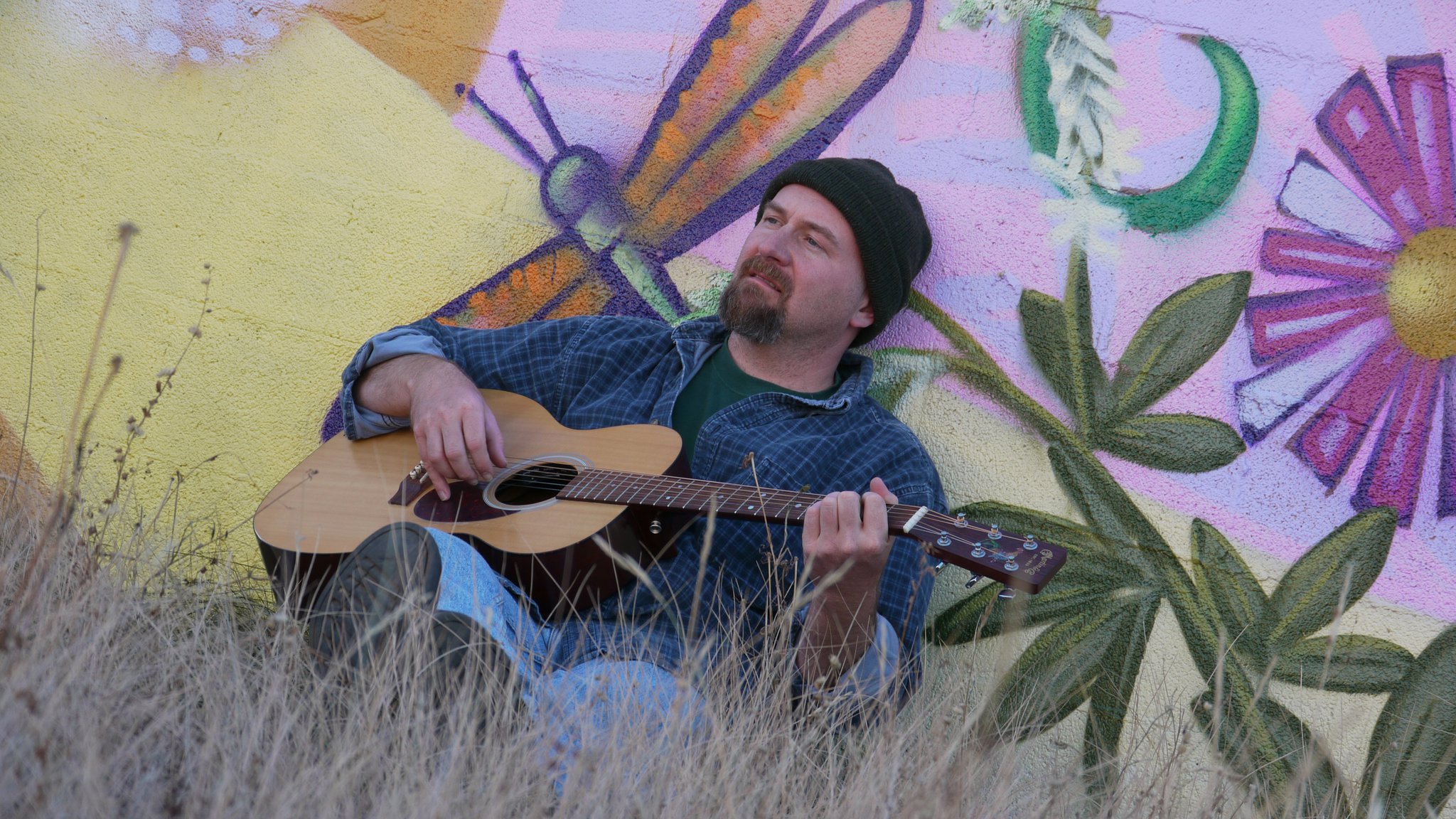 RAFFLE
&
SILENT
AUCTION

OUR SPONSORS:
MOUNTAIN SPORTS DOWNTOWN
ANIMAL DEFENCE LEAGUE OF ARIZONA
CLIF BAR
SIERRA NEVADA
PATAGONIA
MOTHER JONES
RIOS LIBRES
DEFENDERS OF WILDLIFE
DAVID LASH WILDLIFE ART
GRAFIX WEB WORKS
SIERRA CLUB - GRAND CANYON CHAPTER
KAHTOOLA
GOLD WOLFF JEWELERS
KAIBAB VETERINARY CLINIC
AMARA RESORT & SPA
OSPREY PACKS
FLAGSTAFF YOGA FESTIVAL

Additional Sponors and Silent Auction item donors are still needed to help us cover the costs of hosting this great community event. Please download our letter and donation form and contact us if you have any questions.

VIDEO TRAILERS
How the Kids Saved the Parks TRAILER
Wild Things TRAILER