Scientist tell us that the Grand Canyon region in northern Arizona, a small portion of western New Mexico, and southern Utah is ideal for the Mexican gray wolf because:
The region has millions of acres of public land.
Grand Canyon National Park, where animals are protected, is part of the region.
There is an abundance of elk and deer as a food source for wolves.
The region is connected to where wolves now live in the Blue Range Wolf Recovery Areas. If allowed, wolves will disperse naturally to the Grand Canyon region.
There are few roads.
Wildlife biologists recommend that wolves be directly releases into the region. This can help restore the balance of nature and help the Mexican gray wolf recover from near extinction.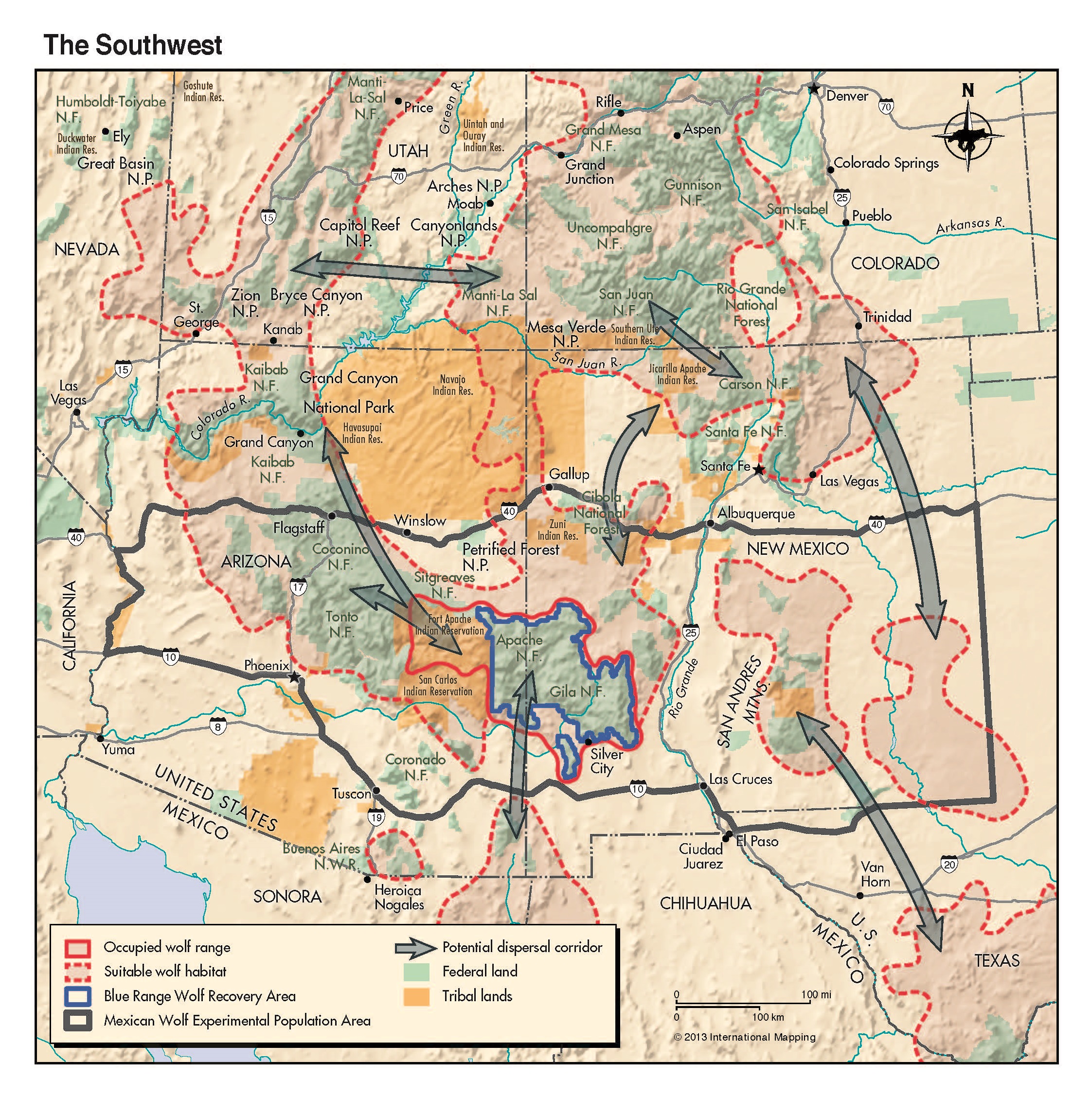 Potential suitable wolf habitat exists in several additional connected recovery areas of the Southwest and Mexico, including the Grand Canyon region (see the Southwest fact sheet). Please take a look at the Places for Wolves document by Defenders of Wildlife for more information. Map and Places for Wolves document and fact sheet courtesy of Defenders of Wildlife.
---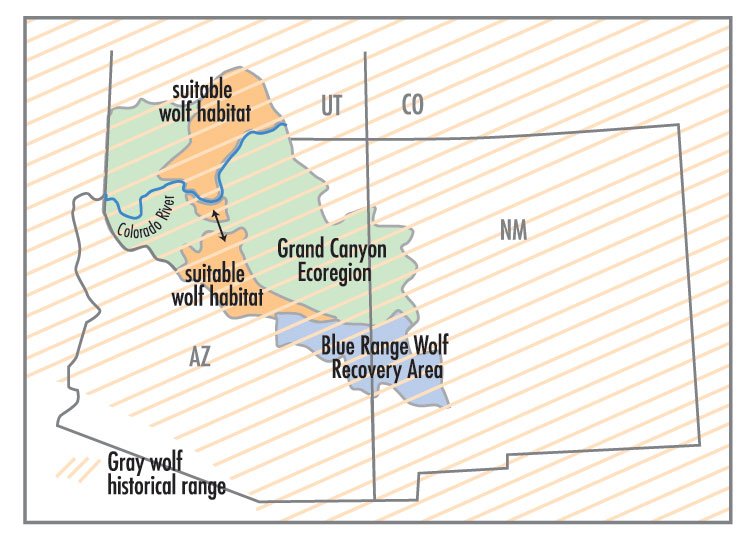 ---
The 36 million-acre Grand Canyon Ecoregion (GCE) is bounded on the west by the Grand Wash drainage, on the east by the Little Colorado River watershed, and extends from the Mogollon Rim in central Arizona north to southern Utah's High Plateaus. Scientists have conducted feasibility studies* determining where within the GCE the best suitable habitat for wolves exists.
*Feasibility Studies
Carlos Carroll study 2004

Scientific support for wolves in the Grand Canyon region:
Sneed, P.G., 2001. The feasibility of gray wolf reintroduction to the Grand Canyon ecoregion. Endanger. Species Update 18, 153–158.
Leonard J.A., C. Vilà, And R. K. Wayne. 2004. Legacy lost: genetic variability and population size of extirpated US grey wolves (Canis lupus). Molecular Ecology.
Menke K. 2006. Modeling Potential Gray Wolf Habitat in the Grand Canyon Ecoregion. GIS model and presentation.
Carroll, C., Phillips, M.K., Lopez-Gonzalez, C.A., Schumaker, N.H., 2006. Defining recovery goals and strategies for endangered species: the wolf as a case study. Bioscience 56, 25–37.
Wayne, R. K., and P. W. Hedrick. 2011. Genetics and wolf conservation in the American West: lessons and challenges. Heredity 107:16–19.
USFWS. 2012. Draft Mexican Wolf Revised Recovery Plan. 05-07-2012. USFWS Southwest Region (Region 2). Albuquerque, New Mexico.
Carroll, C., Fredrickson, R.J., Lacy, R.C., 2014. Developing metapopulation connectivity criteria from genetic and habitat data to recover the endangered Mexican wolf. Conserv. Biol. 28, 76–86.
USFWS, 2014. Environmental Impact Statement for the Proposed Revision to the Regulations for the Nonessential Experimental Population of the Mexican Wolf(Canis lupus baileyi) Final. Albuquerque, New Mexico. Alternative 3
Hendricks, S. A., P. R. Sesink Clee, R. J. Harrigan, J. P. Pollinger, A. H. Freedman, R. Callas, P. J. Figura, R. K.Wayne. 2016. Re-defining historical geographic range in species with sparse records: Implications for the Mexican wolf reintroduction program. Biological Conservation, 194, 48-57.
Hendricks, S. A., S. Koblmüller, R.J. Harrigan, J.A. Leonard, R.M. Schweizer, B.M. vonHoldt, R. Kays, R.K. Wayne. 2017. Defense of an Expanded Historical Range for the Mexican Wolf: A Response to Heffelfinger et al. Journal of Wildlife Management DOI:10.1002/jwmg. 21336.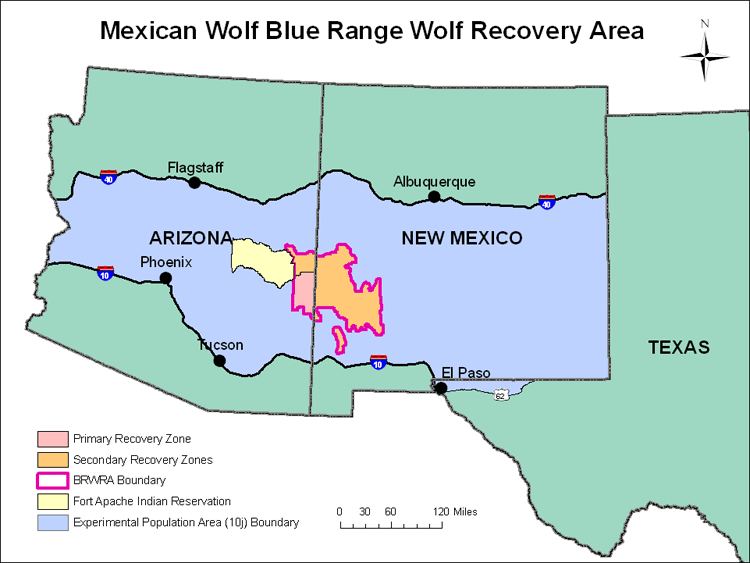 Map of the Blue Range Wolf Recovery Area by USFWS. Currently, Mexican wolves are only allowed to live in the wild in the Primary and Secondary Recovery Zones (surrounded by the pink boundary line) of the Apache National Forest in Arizona and the Gila National Forest in New Mexico, as well as the Fort Apache Indian Reservation (shown in yellow). A reintroduction project rule prohibits the wolves from establishing territories anywhere outside of this current recovery area. Despite the excellent habitat that is available and growing public support for wolf recovery, Mexican wolves will not be allowed to disperse to the Grand Canyon region and stay until this project rule is changed.