Our Mission:
The Grand Canyon Wolf Recovery Project is dedicated to bringing back wolves and restoring ecological health in the Grand Canyon Region.
Project Accomplishments:
2013 Project Accomplishments
2012 Project Accomplishments
2011 Project Accomplishments
2009-2010 Project Accomplishments
2008 Project Accomplishments
2005-2007 Project Accomplishments
Our Current Goals:
Current Goals & Project Outlook
Published Articles:
Grand Canyon Wolf Recovery Project in the Press
Why the Grand Canyon Ecoregion (GCE) is the Last Best Place for Wolves in Arizona:
There is low road density and a good prey base
There are few opportunities for conflict with humans or livestock, because there isn't too much of either. Plus, we even have a few wolf-friendly ranchers who have cattle around the potentially suitable habitat for wolves in the GCE (which means they are willing to practice good animal husbandry techniques and they recognize the value of wolves to the ecosystem)
Note: Defenders of Wildlife, one of the GCWRP member organizations, provides support for livestock owners to help PREVENT depredation. In addition, federal funding has been set up as a compensation program, operated by the US Fish and Wildlife Service to pay ranchers whenever there is a loss of livestock due to depredation by a wolf that was reintroduced.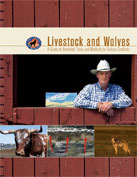 Download the Defenders of Wildlife Livestock and Wolves Guide Here
Finally, the majority of the GCE is national parks, national forest, and national monuments…it is our land, public land.
Bringing the Wolf Back to Grand Canyon:
By the late 1920's wolves had been almost completely eliminated from the landscape of northern Arizona. With the arrival of Europeans to the Southwest in the seventeenth century, bringing with them cattle and sheep, most wildlife endured similar persecution. Elk and pronghorn antelope were slaughtered, at first for their meat and later to reduce competition with domestic stock. Stockmen killed virtually any creature, from prairie dog to bighorn sheep, thought to compete with domestic livestock. No group of animals suffered as much as did predators, and none so completely as the wolf.
This was particularly true in Arizona where the livestock industry and government hunters launched total war against the wolf in the 1890's. The exterminators did not understand and, therefore, gave no regard to the important role predators play in nature. Generally, little regard was given to nature at all. The complete extermination of the wolf in Arizona took 60 years and cost millions of taxpayers' dollars. In the process, distinct subspecies were extirpated from the southwestern United States. Early wolf taxonomists (Young and Goldman 1944) identified two distinct subspecies in the GCE (C.l. mogollenensis and C.l. youngii); however, recent taxonomic revision (Nowak 1995) recognizes only one subspecies (C.l. nubilus), and current genetic research may show original occupation of much of GCE by the Mexican wolf (C.l. baileyii) as well. Regardless of which subspecies once dwelt throughout the GCE, it is certain that the region's ecosystem suffers without the top predator.
Wolves at Grand Canyon were targeted for additional reasons. In 1906, Theodore Roosevelt signed into law a bill establishing the Grand Canyon Game Preserve on the Kaibab and Coconino plateaus. Lacking insights into the ecological role of predators, the government immediately hired hunters to protect "harmless" game animals, such as deer and bighorn sheep, from predators such as cougars and wolves. Between 1906 and 1923 government hunters and others reportedly killed hundreds of cougars and bobcats, thousands of coyotes, and many wolves. The slaughter of most of the mountain's predators, including every wolf, contributed to the explosive increase of deer on the Kaibab Plateau. The deer population peaked in 1924 somewhere between 30,000 and 100,000 animals. Overgrazing by deer and cattle, combined with a severe drought, brought disease and starvation. Thousands of deer perished. Incredibly, predator extermination continued.
Now we skip ahead to 1998. Under the Endangered Species Act, an "experimental, non-essential population" of Mexican wolves, bred in captivity, was introduced in the Blue Range of eastern Arizona. Not without difficulty or compromise, however. One compromise was the artificial boundary imposed on the wolves' movement away from the reintroduction area. If a wolf adventures (as young males and females are biologically required to do to form their own packs) beyond the boundary, then they are captured and returned. One such wolf actually made it to Flagstaff in 2000 before being hit and killed as it crossed Hwy. 89 on the east side of town.
All hope is not lost. The Grand Canyon Ecoregion has been identified by wildlife ecologists as offering extraordinary habitat for wolf recovery. The region contains vast expanses of undeveloped land in national parks, monuments, and forests, and contains ample food for wolves. Scientific research* indicates that this region, extending from the Mogollon Rim all the way up to the high plateaus of southern Utah, can sustain at least 200 wolves.
*Scientific Reports
Carlos Carroll study 2004
Carlos Carroll study 2006
Paul Sneed feasibility study 2004
Kurt Menke feasibility study 2006