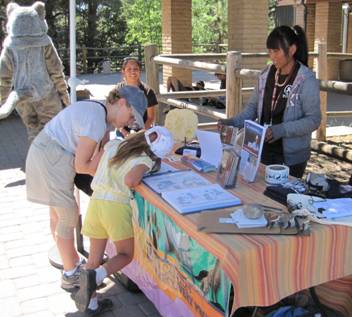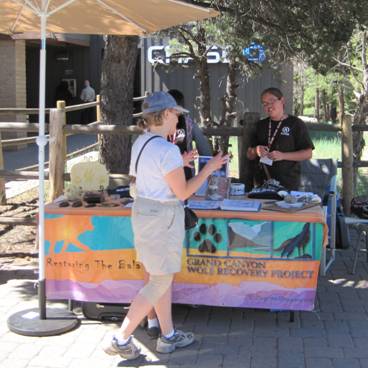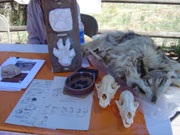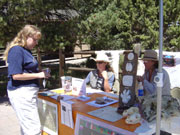 Educating Visitors to the Grand Canyon
With the help of our dedicated volunteers, the Grand Canyon Wolf Recovery Project hosts our "Howl for Wolves" at the Grand Canyon Outreach Campaign each summer in Grand Canyon National Park.
We have successfully educated over 6,000 people from the U.S. and abroad about wolves by tabling at the North and South rims during the months of June, July, and August each year.
Our tabling campaign has generated over 3,000 post cards to Benjamin Tuggle, former Southwest Regional Director of the U.S. Fish & Wildlife Service (FWS) and over 500 hand-written post cards to former U.S. Secretary of the Interior, Ken Salazar expressing support for the recovery of wolves to the Grand Canyon region.
This very successful project was developed with three goals in mind:
1. Disseminate information to visitors from the U.S. and abroad about the historical role wolves played in this vicinity, their current status in the Blue Range Wolf Recovery Area, and the potential for future inhabitation throughout this region.
2. Dispel myths about wolves and teach the public about wolf behaviors, pack structure, hunting habits, and the biological niche wolves fill in healthy ecosystems, using the success in Yellowstone to illustrate the way an ecosystem will begin to heal itself when a top predator is reintroduced.
3. Engage with a supportive public, encouraging them to write agency officials to show the widespread support for wolf recovery in the Grand Canyon Ecoregion, as well as build a strong pro-wolf constituency to aid us in our campaign to bring wolves back to the Grand Canyon Ecoregion.
The Grand Canyon Wolf Recovery Project is also available for in-school, age-appropriate classroom presentations on wolves and guest speaker presentations for camp programs or other events in the Grand Canyon region. Please contact our Education Coordinator for more information: This email address is being protected from spambots. You need JavaScript enabled to view it..