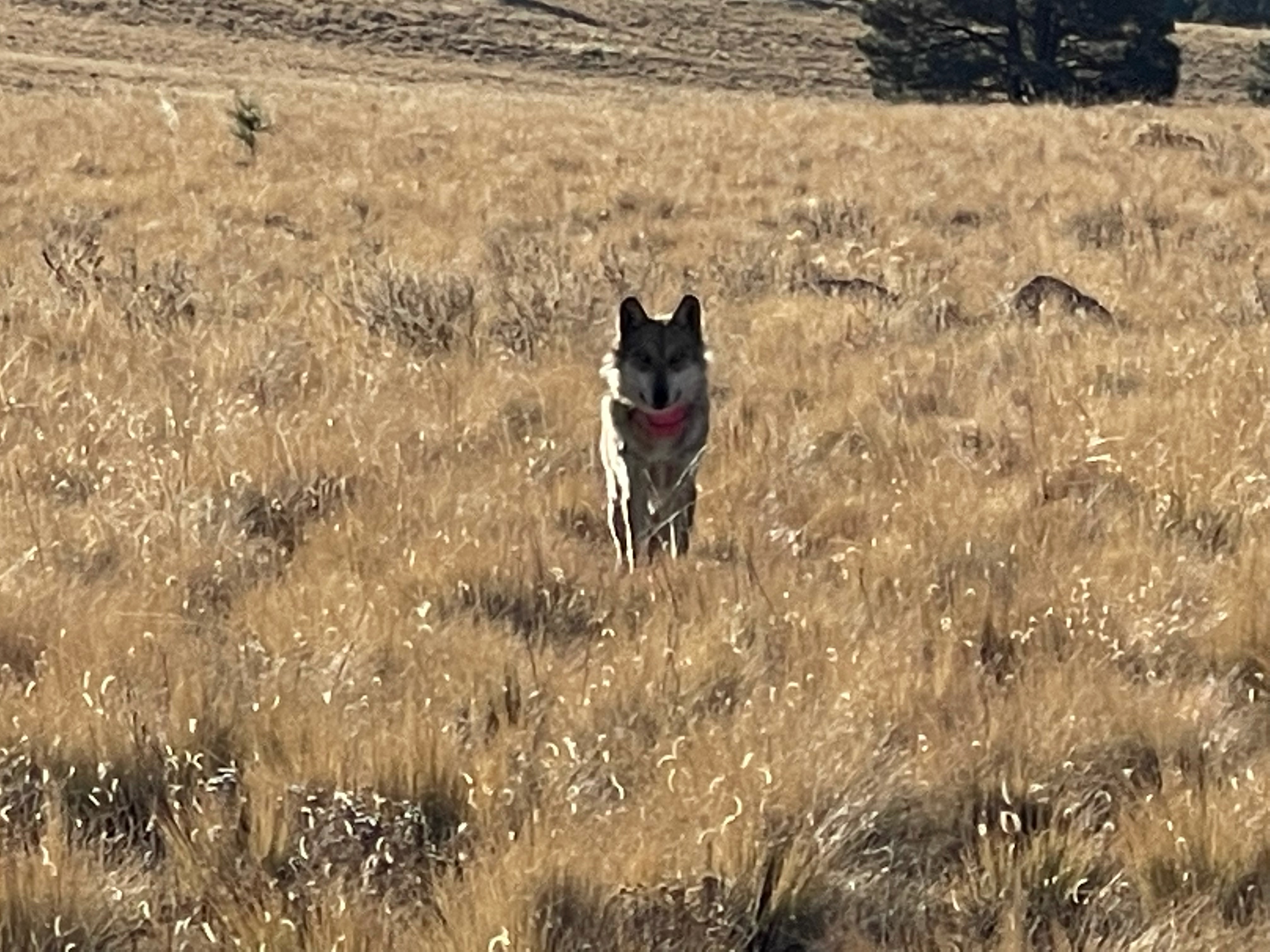 Photo credit by Keith Hayes.
For immediate release: January 7, 2022
Media contacts:
Emily Renn, Grand Canyon Wolf Recovery Project (928) 202-1325; This email address is being protected from spambots. You need JavaScript enabled to view it.
Greta Anderson, Western Watersheds Project (520) 623-1878; This email address is being protected from spambots. You need JavaScript enabled to view it.
MEXICAN GRAY WOLF "ANUBIS" KILLED ON NATIONAL FOREST LAND IN NORTHERN ARIZONA
FLAGSTAFF, Ariz. – Endangered Mexican gray wolf "Anubis" (m2520) was shot and killed illegally on the Kaibab National Forest west of Flagstaff last Sunday, January 2. The wolf had become well-known for his successful forays north of Interstate 40 and beyond the boundary of the current recovery area.
"We are heartbroken to learn that our adventurous young disperser wolf had his life illegally cut short by a human's bullet," said Emily Renn, Executive Director of the Grand Canyon Wolf Recovery Project. "Anubis filled us with the hope that wolves will keep coming back to the excellent habitat of the Grand Canyon region. I am grateful for the time knowing he was in the forests nearby. The power of people who love and care for wild creatures and want to see wolves restored to their rightful place will someday overcome the small minority of people who kill for no reason."
"It's tragic that Anubis was killed and many of us are grieving his loss, but despite this heinous crime, it is also profound confirmation that northern Arizona should be part of the wolf recovery effort," said Greta Anderson, Deputy Director of Western Watersheds Project. "The arbitrary boundary at Interstate 40 is not based on science or suitability but on the continued reluctance of the state game agencies to let wolves be wild and roam wherever they choose."
"The Arizona Game and Fish Department could have done more to protect Anubis, including public education efforts, the closure of hunting units, and by promoting coexistence," continued Anderson. "As far as we know, the department didn't do anything to ensure this wolf's safety in the many months he was up north."
The best available science recommends that real recovery for Mexican gray wolves includes the establishment of a northern Arizona population. A new proposed rulemaking period gives the U.S. Fish and Wildlife Service an opportunity to expand the recovery boundary; the public comment period is open until January 27, 2022. Conservation groups are hoping that the federal agency will consider a plan to remove the Interstate 40 boundary.
Anubis was wearing a bright pink collar at the time he was shot, and his death is under federal investigation. Mexican gray wolves are protected under the Endangered Species Act. Killing a Mexican wolf is a violation of the federal Endangered Species Act and can result in criminal penalties of up to $50,000, and/or up to one year in jail, plus a potential civil penalty of up to $25,000.
Anyone with information about Anubis' death should call 1-844-397-8477 or email This email address is being protected from spambots. You need JavaScript enabled to view it.. The Service is offering a reward of up to $10,000, the Arizona Game and Fish Department is offering a reward of up to $1,000, and the New Mexico Department of Game and Fish is offering a reward of up to $1,000 for information leading to the conviction of those responsible for the wolf's death. Additional reward funds of up to $37,000 have been pledged by conservation organizations and private individuals for information leading to the conviction of anyone who kills an endangered wolf.
Photos of Anubis are available upon request.

###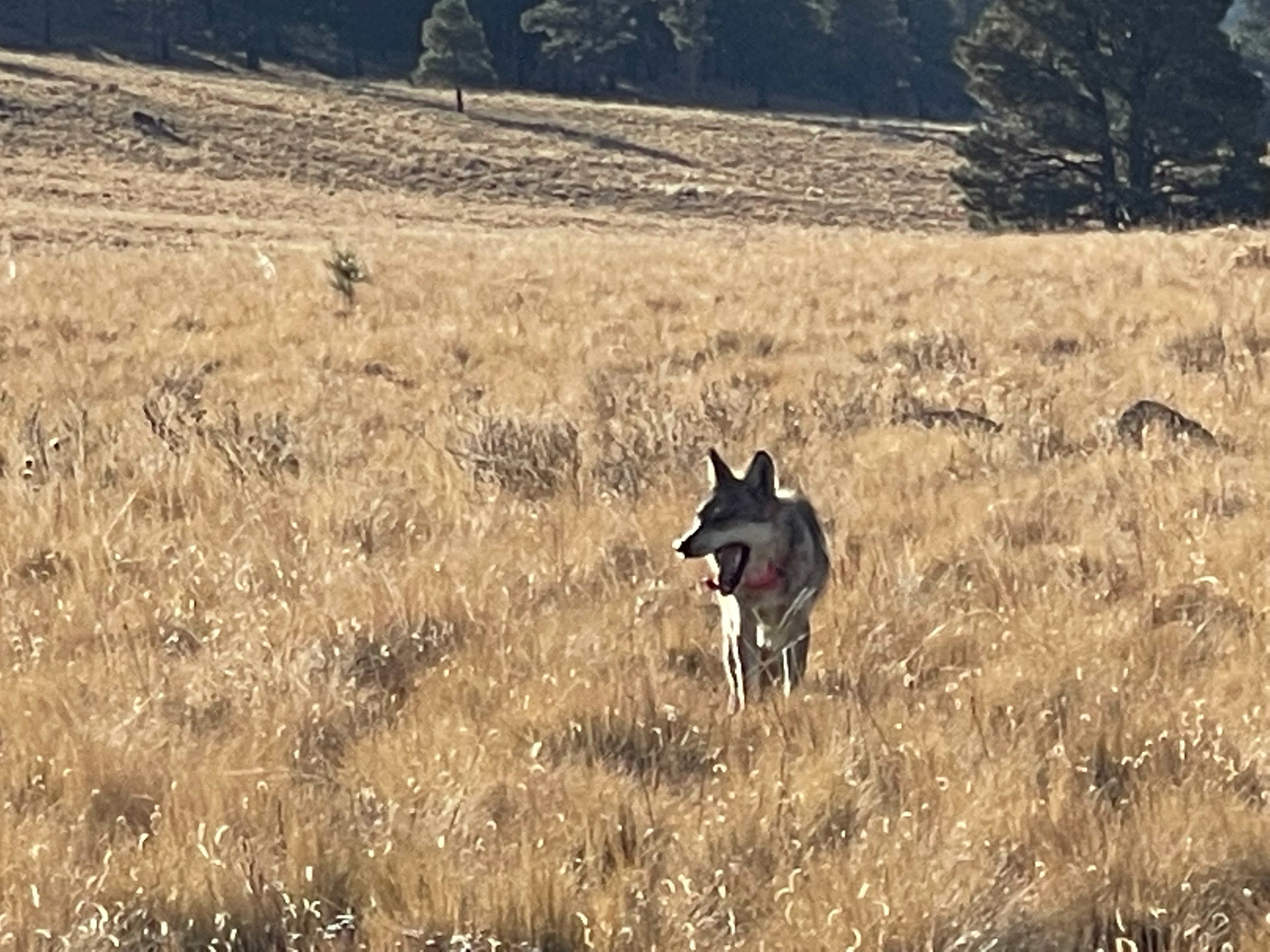 Photo credit by Keith Hayes.