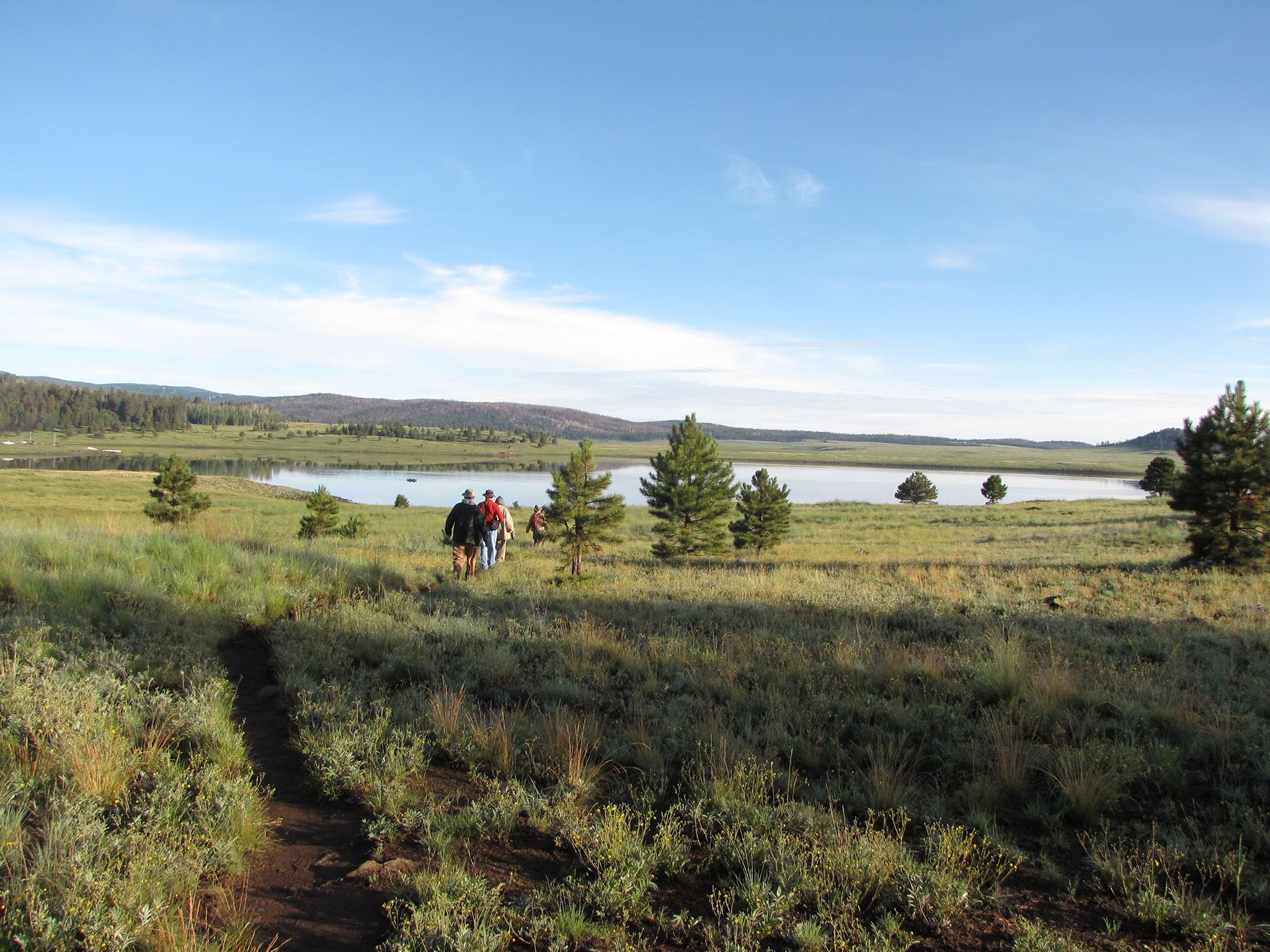 July 29, 30, & 31, 2022
Join the Grand Canyon Wolf Recovery Project for a fun-filled weekend learning about and celebrating the return of Mexican gray wolves to the wild. This year marks the 24 year anniversary of the first releases of Mexican gray wolves back into the wild in the Blue Range Wolf Recovery Area.

Where: Apache Trout Campground Fir Group site at Big Lake in the Apache National Forest, Arizona.
When: Friday, July 29, 2022, starting at 3:00 pm through Sunday, July 31st at noon.
The registration form is now closed. No on-site registrations are accepted.
Suggested Donation for the registration fee is $75 per person and $50 per youth ages 18 and younger (to help us cover the cost of the four hot boxed meals and the camp ground group site). All activities during the weekend are free. Weekend registration is required through the registration form.
Please bring your own personal camping equipment -including utensiles and cups- and comfortable clothes appropriate for hiking and camping in high-elevation weather during the monsoon season. Here is a list of Recommended Personal Camping Supplies to bring with you.
Meals included in the weekend for registered participants:
We will provide a hot boxed dinner on Friday and Saturday evenings, and hot boxed breakfast on Saturday and Sunday mornings. Coffee, hot water, and hot Apache herbal tea will also be provided. You may pick up your boxed meal during the breakfast and dinner serving times and choose where you feel most comfortable eating it. Please bring your own silverware and cup for meals.
All the meals served will be vegetarian. Please indicate in the registration form if you need vegan options or if you have food allergies and we will be able to accommodate your needs.
Please bring your own lunches, snacks, and beverages of choice. Due to enhanced pandemic meal-serving procedures, no lunch buffet or snacks will be provided to participants this year.
We recommend that you pack your own spices (salt & pepper, etc.), condiments, and beverage mix-ins (like sugar, creamer, non-dairy milk, etc.) for coffee and tea. The boxed meals will be limited in their customization this year and we want to minimize shared contact on things like condiments.
Note there are strict orders from the Apache-Sitgreaves National Forest on bear-resistant food, trash, and personal hygiene product storage for the Big Lake area. Read the special order here, and be prepared to lock all food and personal hygiene items you bring with you in your vehicle.
Optional Weekend Activities include:
- morning bird walk
- wildlife tracking workshops with wildlife tracking experts
- a hike to the "Green Fire" site where Aldo Leopold had his epiphany about wolves
- hikes on the Paseo del Lobo trail
- evening talks by wolf conservationists and biologists
Enhanced Covid-19 Safety Procedures:
We are excited to be hosting the campout in person again this year, but in order to do so safely, we ask that each and every individual read and sign our Participant Agreement and Covid Release Form online before registering for the event. Parents and Guardians of minors will need to fill out the two forms for any participant under the age of 18. If we do not receive your signed forms by the time the registration form closes on July 25th, you will not be considered a registered attendee and will not be allowed to participate in the campout. We take the well-being of our community, staff, and campout caterers very seriously. The Grand Canyon Wolf Recovery Project is a very small organization, with limited staff capacity, so we ask that all participants voluntarily assist with enhanced sanitation of shared spaces and commit to wearing masks in congregated spaces and around food services in order to make this event a safe and fun weekend for everyone.
Sorry, no dogs are allowed (besides service dogs) to join us at the campground or on the activities at the Big Lake Campout Weekend. We are huge fans of companion dogs, but because we will be sharing a group camp site and will be camping and hiking in areas occupied by Mexican gray wolf packs and other wildlife, we want to minimize our disturbance to the wolves and their new pups. Thank you for your understanding!
Please contact Emily at This email address is being protected from spambots. You need JavaScript enabled to view it. or (928) 202-1325 if you have any questions.
Please note that campsite spots and meals will be provided to only those people who register and sign our Participant Agreement and Covid Release forms! The registration form will close on Monday, July 25th, 2022 at 11:59 pm AZ Time. Thank you!