Dear Friend of the Wolves,
For many of us, this time of year stirs increased generosity and a desire to engage more deeply with causes that matter most to us. Have you got the end-of-year giving bug? If so, I hope you will connect your desire to engage with your generous spirit and put Grand Canyon Wolf Recovery Project at the top of your end-of-year giving list.
Grand Canyon Wolf Recovery Project is a regional leader in advocating for restoration of the natural balance, which includes wolves.
Help us speak up for the Mexican gray wolf, and make an end-of-year gift today!
Wolves are native to northern Arizona but were eradicated from the region in the early 1900s. The Mexican gray wolf is now considered one of the most endangered mammals in North America, with a population of only about 131 individuals in the wild of eastern Arizona and western New Mexico.
The Grand Canyon Wolf Recovery Project is dedicated to bringing back wolves to help restore ecological health in the Grand Canyon region. But we cannot do this without your support. I hope you will make an end-of-year gift today, in support of wolves.
Thanks to your past support we continue to build enthusiasm for wolves through creative and meaningful outreach and education:
Howling Success. At our 7th annual Big Lake Howliday Campout wolf supporters from around the world — many brand new to the experience — gathered for a fun-filled weekend to learn about and celebrate the return of Mexican gray wolves to the wild. Year after year, we are the only organization to host this unique event of education, advocacy training, hiking, wildlife tracking, and camaraderie around the campfire — all within howling distance of wolf packs. (Save the date for 2020: August 7-9.)
Creative Forces. In September, paint was flying at Flagstaff's Creative Spirits during four sessions as folks filled canvases with howling wolves, aspen landscapes, or pet portraits all while learning about our efforts to recover Mexican gray wolves.
Call of the Wild! With paint brushes and markers in hand, GCWRP wolf advocates, decorated life-size wolf cutouts with expressions of support for wolves and all things wild during the Call of the Wild traveling art installation. The October event also featured two showings of our newly launched puppet show — an interactive theater experience that teaches children about wolves.
Feeling generous? Your end-of-year gift of $50, $75, $100, $250 or more will help us educate the community about the critical importance of wolves and activate the public to speak out for wolf recovery.
Your support will be put right to work, returning wolves to their rightful place in our natural community. We have big goals for the year ahead, including:
Wolf friendly. We're creating a region-wide directory of businesses that support wolf recovery in the Grand Canyon region. Many business owners understand that the presence of wolves can be an economic boon through increased spending by tourists and local wolf supporters. We plan to promote the businesses in an online directory and businesses can proudly boast their support of wolves to customers with window decals.
Last best chance. We're working hard now and into 2020 to generate intense grassroots activism during a limited window of opportunity to change the Mexican gray wolf 10j management rule. We will mobilize a diverse constituency of activists who will send in comments and attend public hearings on the revisions. The timing is critical. This may be our last chance to attain a management rule that promotes, rather than limits, Mexican gray wolf recovery in our region.
You can help us reach our goals and ensure that wolves thrive. Send in your end-of-year gift today!
Stay connected to Grand Canyon Wolf Recovery Project. Visit www.gcwolfrecovery.org to sign up for our email newsletters, and to find out about the exciting ways we are building the wolf recovery movement through gatherings, presentations, and calls to action.
For the wolves,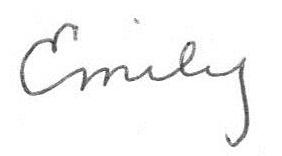 Emily Renn
Executive Director
This email address is being protected from spambots. You need JavaScript enabled to view it.
928.202.1325
P.S. Thank you for your past support! Continue to stand with us, and to stand with wolves. Please make an end-of-year gift of $50, $75, $100, $250. Thank you!