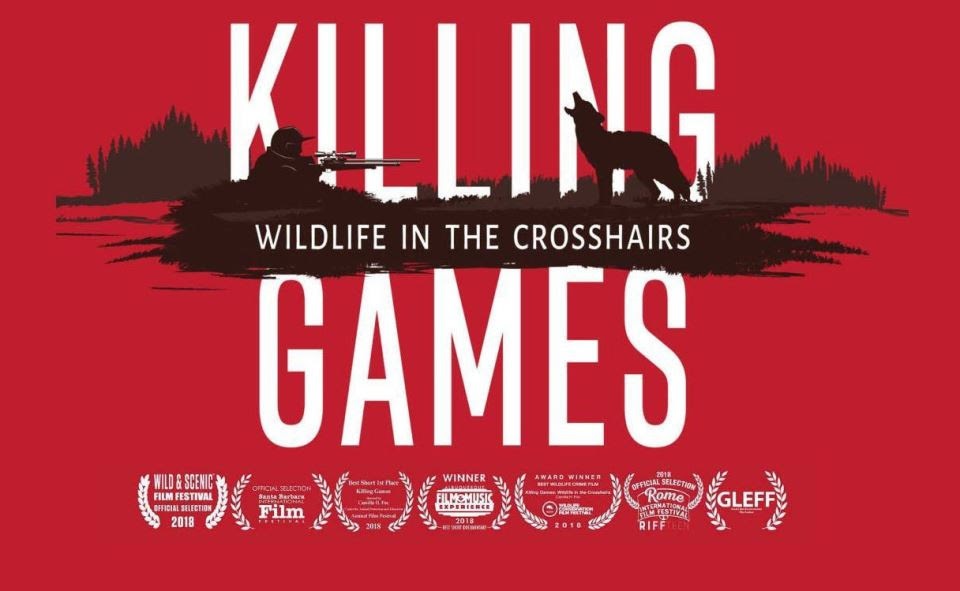 What are wildlife killing contests?
Are they legal?
Are they considered hunting?
Are they about controlling coyote populations?
What does Arizona Game and Fish do about killing contests?
We have the answer to all of those questions and more.
Join us for a FREE public screening of the film Killing Games: Wildlife in the Crosshairs which examines the growing plague of wildlife killing contests. The screening will be followed by a panel discussion and information on our initiative to ban wildlife killing contests in Arizona this year.
Wildlife killing contests are events in which participants compete for cash and prizes (e.g., guns, belt buckles, and more) for killing the most animals in a given time frame. The animals targeted are usually predators such as coyotes, bobcats, foxes and in some cases mountain lions. Outside of Arizona wolves are also included in these killing sprees.
The contests often include side bets and tiered prize levels awarded for the largest animal killed or the smallest (in other words, the youngest).
Our campaign in Arizona to ban these events is gaining momentum. Recently in collaboration with the City of Dewey and Yavapai County, a resolution and proclamation were passed opposing these "contests." We are now focusing on Coconino County where the killing contest March Madness will take place benefiting a local 4H group.
Killing Games is produced by the nonprofit group Project Coyote. It will be followed by a panel discussion moderated by Betsy Klein, Co-founder of I AM WOLF NATION™ with panelists Matt Francis, Program Associate, Project Coyote; Joe Trudeau, Southwest Advocate, Center for Biological Diversity; Amber Fields, hunter and conservationist, and Emily Renn, Executive Director, Grand Canyon Wolf Recovery Project.
The event is co-sponsored by Matt Francis, Lain Kahlstrom, Tina Meredith, and Betsy Klein, four concerned residents of Arizona who started the campaign www.EndKillingContests.org with support from I AM WOLF NATION™ and Project Coyote.
The event is FREE; however, an RSVP is much appreciated. Please click here
WHAT: Killing Games film screening and panel discussion about wildlife killing contests
WHEN: January 24, 7-8:30 pm
WHERE: Coconino Center for the Arts, 2300 North Valley Road, Flagstaff, AZ 86001
For more information email This email address is being protected from spambots. You need JavaScript enabled to view it. or call (559) 425-6191.