A positive portrayal of the wolf as told by Navajo Storyteller, Sunny Dooley
Sponsored by Plan B to Save Wolves
Benefiting Grand Canyon Wolf Recovery Project
Join us for an evening of traditional Navajo story telling that positively portrays the wolf and their leadership in nature.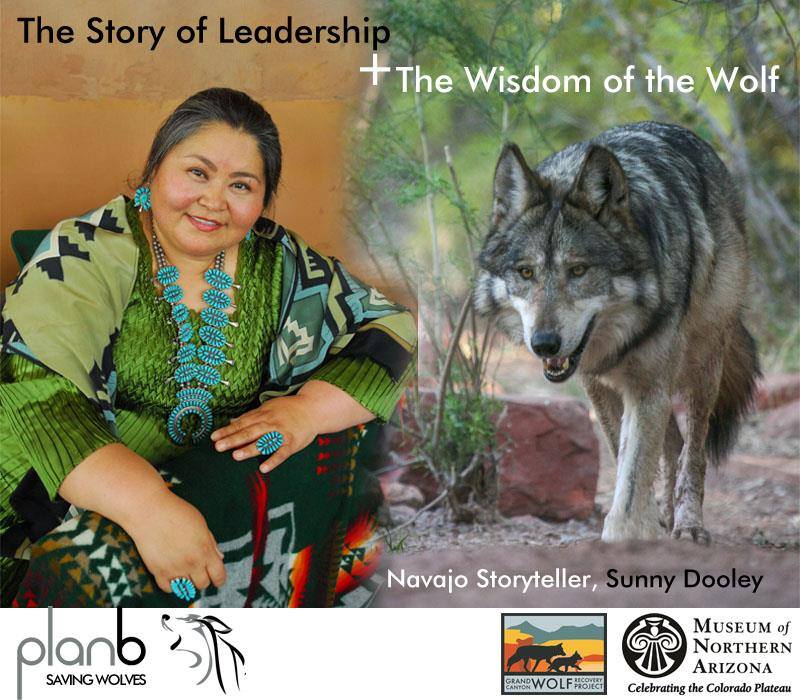 Two showings are available for this very exciting event:

November 9th, Sedona
Vista Hall at The Collective, 7000 AZ-179, Sedona, AZ 86351
Doors open: 5:30pm
Storytelling begins: 6:00pm
Light refreshments served.
The Plan B Ambassador Pack will be on site.
CLICK HERE TO GET TICKETS

November 10th, Flagstaff
Museum of Northern Arizona, 3101 N Fort Valley Rd, Flagstaff, AZ 86001
Doors open: 6:30pm
Storytelling begins: 7:00pm
CLICK HERE TO GET TICKETS
Sunny Dooley, Navajo Storyteller
Sunny Dooley is a traditional storyteller who has been telling Navajo stories for 30 years. She works as a storyteller, folklorist and cultural consultant – collecting, learning and retelling the oral tradition of the Navajo Blessingway stories. These stories present the worldview of the Diné people and details their relationship with their surroundings. She has retold these stories by oral tradition in Navajo and in English for a variety of organizations, universities, schools and conferences throughout the US, Canada, Africa, Europe and Mexico including the Smithsonian Museum of the American Indian, and the Denver Arts Museum, and the Museum of Indian Arts and Culture. Among her many accomplishments include winning the 1982 Miss Navajo pageant. She was the Olive B. O'Connor Distinguished Visiting Professor of Literature and Storyteller-in-Residence at Colgate University and one of nine women, and the only Native storyteller, selected for the Women's Chautauqua Institute. In 2006, she received the Navajos Making a Difference Award at the annual Navajo Studies conference. She founded the Hané Storytelling Festival for indigenous storytellers and has been featured in several documentaries. In 2013, she was the Runy International Scholar at Robert Morris University.
Plan B and the Ambassador Pack
Founded by Betsy Klein and Timon Pratt, the Plan B Foundation is a 501(c)3 corporation created to support organizations and individuals in their mission to protect, preserve and rescue wolves and wolf dogs through advocacy, education and funding.
Plan B will work hands on with wolf and wolf dog groups, organizations and individuals to:
Provide in-kind marketing, development and Board development services.
Fundraise, manage and disburse funds to organizations with an emergent need.
Help create a unified network of support among wolf and wolf dog organizations.